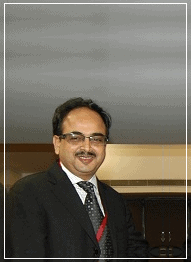 CMD
Mr. Dharmendra B Mehta
Dharmendra B Mehta – CMD- popularly known as D.B. Mehta commenced his working life as a Chartered Accountant, with additional qualifications in Cost Accounting and as a Bachelor of General Law. He enjoyed an eventful bureaucratic career in the Indian Revenue Service having qualified in the 1990 Batch of the Civil Service Exam. After a decade long career as an IRS officer he embraced the opportunities of financial markets and the challenges of independent entrepreneurship by establishing Allegro Ventures India Pvt. Ltd. He was a laterally inducted President of the Kanara Builders Association. He has been the President of the Board of Mangalore Stock Exchange for several years and a two- term elected Director on the Board of the Inter Connected Stock Exchange of India, Mumbai. He has served as a Chairman and two term President of CREDAI Mangalore. Currently he is Vice President of CREDAI Karnataka. He is also Chairman of India Green Building Council,(IGBC) Mangalore Chapter to express his commitment to sustainable construction and an Independent Director (State Govt.appointed) in Mangaluru Smart City Ltd . He is active on advisory formations for infrastructure development in Mangaluru. He has tendered advisory opinions to government bodies and departments on matters relating to fiscal policy and taxation, Building Bye Laws, TDRs, disaster relief, epidemic control and the like. His insightful knowledge of the real estate industry, stock markets, finance and economics have earned him a huge following on television and YouTube, where he is popular for simplifying complex issues aimed at general understanding.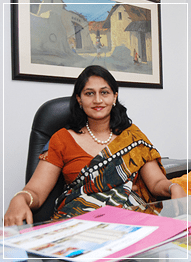 Co Managing Director
Ms Giselle Mehta
Giselle Mehta entered the Indian Revenue Service in 1990. In the year 2000, she joined her spouse for a collective journey in entrepreneurship. Their focus on construction is a logical choice enjoying a certain continuity with the past. Giselle's father, the late JM Lobo Prabhu had pioneered Mangaluru's very first high rise apartment building "Lobo Prabhu Court" in the late 1970s. The visionary act behind this landmark structure forever changed the landscape of a quiet roof-tiled town into one of subsequent vertical growth. She has been a co-director and partner with her husband in joint enterprises of the ALLEGRO group, and is also a proprietrix in her own capacity. Her wind power project in Nasik supplies power to the Maharashtra State Electricity Distribution Company. She is one of the very few women entrepreneurs in the country to enjoy a certification with the UNFCC for the Clean Development Mechanism. She is the President of the Mangalore Central Excise, Customs & GST Retired Officers Association. She enjoys a renowned creative persona as author of the popular novel "Blossom Showers". Her versatility ensures that she is widely sought for her intellectual insights on various speaking platforms.